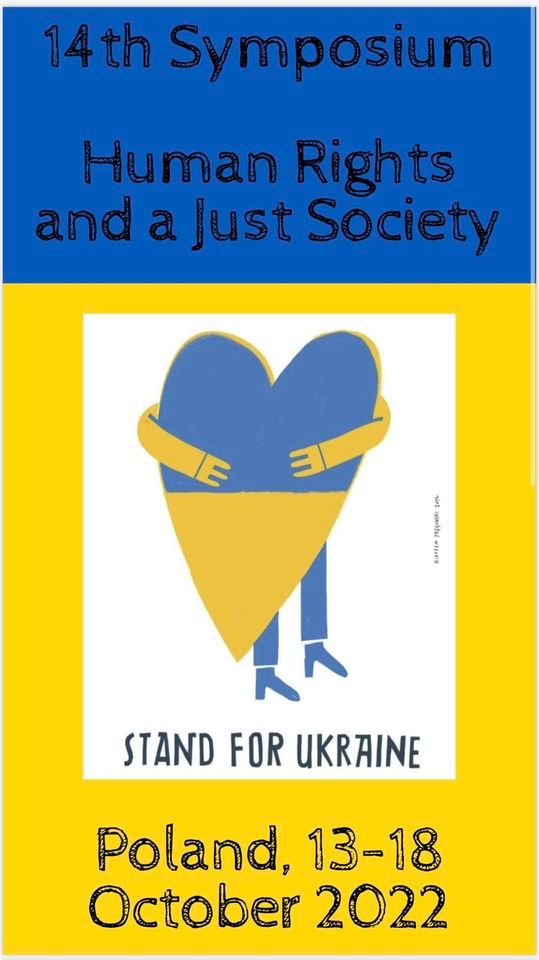 Date

Sat Oct 15 2022 at 12:00 am to Mon Oct 17 2022 at 11:45 pm

Location

Torun, ,Warsaw, Poland, Warsaw, Poland

Organizer

Human Rights and a Just Society Symposium
HRJS RETURNS TO POLAND ON OCTOBER 15-17, 2022
The War in Ukraine is the largest ground conflict in Europe since the end of World War II. Millions of people have been displaced, their lives dramatically changed, and the death toll is rising daily. Despite this, the bravery of the Ukrainian people in the face of insurmountable odds has inspired the world. Humanitarian and military aid from the international community has been able to make a difference in the lives of refugees, soldiers, and civilians still left in Ukraine.
The Symposium – Human Rights and A Just Society, returns to Poland this Fall on October 15 17, 2022. This program is again sponsored by Loyola Chicago's John Felice Rome Center (JFRC) and the Faculty of Political Science and International Security of Nicolaus Copernicus University (NCU) in Torun, Poland. This year we are tackling our most ambitious program since our inception in 2006. It will take place in Warsaw and Torun.
This year's program will focus on the human rights issues triggered by the war in Ukraine. We will:
• examine the geopolitical and historical relationship between Russia, Ukraine, Poland, and other countries giving rise to the war;
• the enormous exodus from Ukraine what are now millions of refugees, and the incredible response to the influx of these refugees by Poland and other countries;
• the atrocities committed by the Russians violating human the human rights of innocent Ukrainian citizens and the impact of this war, on our world;
• and what you can do about it.
We have received commitments from a wide range of people who will attend, speak and interact with you. In addition to leading academics, political leaders, and journalists you will hear from actual refugees who remain in Poland today.
You will hear:
• stories of Ukrainians who desperately escaped from Mariupol, Kyiv, Kharkiv, and the Donbas region;
• how humanitarian aid workers and shelters in Warsaw and other parts of Poland sheltering them are managing this crisis;
• from an American entrepreneur who, once the war began in February, got on a plane to Poland and then drove into Ukraine with his Ukrainian significant other and for 35 straight days helped rescue, comfort, and feed Ukrainians stunned by the horror of this war.
We welcome again a representative of Human Rights Watch on the ground in the Ukraine to discuss the investigation of the atrocities being committed by the Russians in the war and its impact on international justice.
In addition to our traditional schedule on Sunday evening and Monday, we have added a Saturday afternoon session in Warsaw that tentatively will take place at Warsaw University with a unique and special program.
Illinois lawyer and JFRC alumnus, John Kurowski continues his leadership of the program that includes a planning committee and participation of retired Chicago lawyer and JFRC alumnus, William Mahoney, Professor Anne Wingenter of the JFRC, Copernicus faculty member, Michal Balcerzak and Warsaw lawyer (and former NCU faculty member) Marcin Kaldunski.
We ask that you complete a registration form, which can be found at https://www.icloud.com/iclouddrive/02aCEe0AKx4yDbJMJP-umHsdA#2022_Symposium_Registration and email it to Pamela Eversgerd at
[email protected]
by October 10, 2022. Ms. Eversgerd can also provide information regarding hotels and travel to Torun.
Since 2006 Loyola and Copernicus have jointly presented this program to American and Polish students and others. Highlights of some of our most memorable times will follow.
#HRSJ #humanrightsandajustsociety #symposium #Poland #ukraine #copernicusuniversity #feliceromecenter #geopolitical #humanrights #humanrightsforall #johnfeliceromecenter #justsociety #loyolachicago #ncu #nicolascopernicusuniversity #torun #universityoftorun #warsaw
---