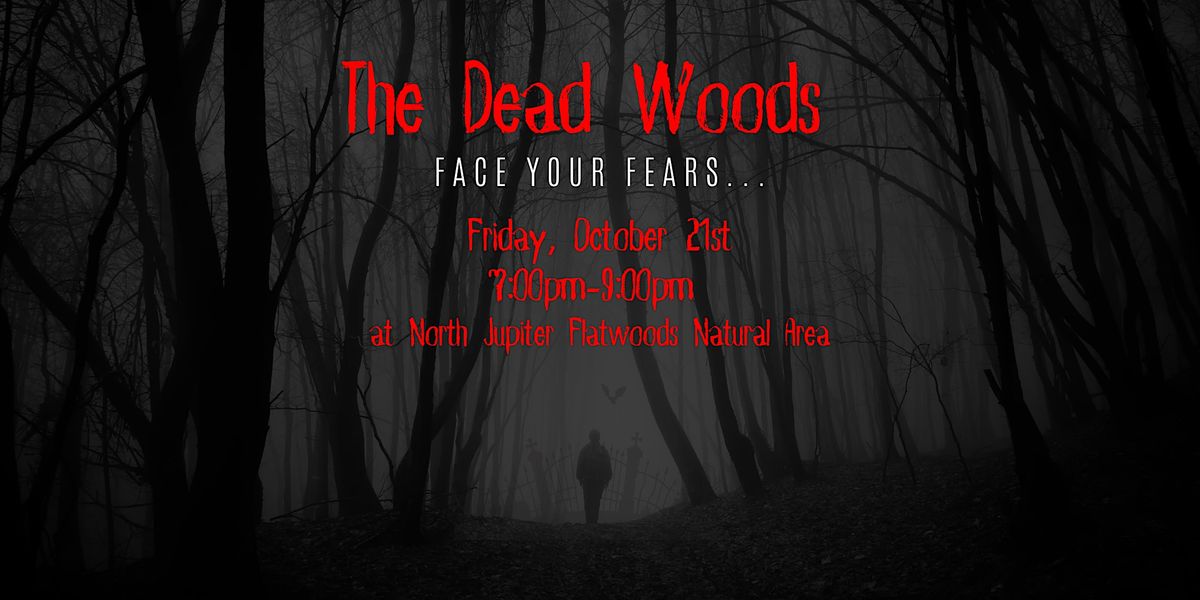 Date

Fri Oct 21 2022 at 07:00 pm to 09:00 pm

Location

North Jupiter Flatwoods Natural Area, 3377 Church Street, Jupiter, United States

Organizer

Palm Beach County Department of Environmental Resources Management
Join us for a Hike Through the Dead Woods along the trails of North Jupiter Flatwoods Natural Area on Friday, October 21st from 7-9pm
About this Event
It's October, the time of year when all things creepy roam the land and the Department hosts its spook-tacular Halloween Event. You are invited to spend an evening in the Dead Woods - IF YOU DARE! Face your fears at the Friday, October 21st` at North Jupiter Flatwoods Natural Area (located within Jupiter Community Park). The fright-filled fun starts at 7 p.m. This free event is for everyone looking to celebrate this boo-tiful time of year. Registration is required.
The Dead Woods Hiking Trail-0.5 mile (registration required ) opens at 7 p.m. The trail follows a paved and dirt trail (no pets or strollers). There is no age restriction; however the Hike Through the Dead Woods contains loud noises, lunging characters, and body parts. Parents should determine if this is too much scare for their young kids. All children must be accompanied by an adult.
Cross over the boardwalk and journey into the Dead Woods to see what creatures are waiting for you..
---