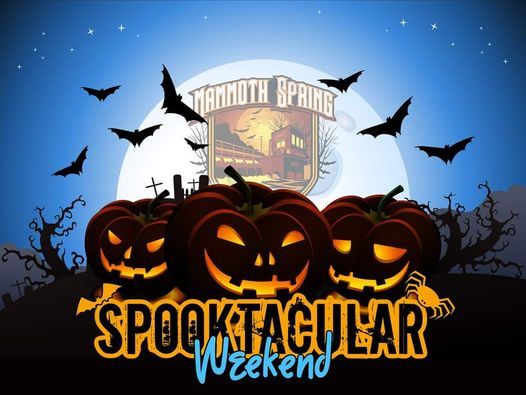 Date

Sat Oct 30 2021 at 04:00 pm to 07:00 pm

Location

Mammoth Spring, AR, United States

Organizer

City of Mammoth Spring
The famous Mammoth Spring Spooktacular event is back! Bring the family for a day of spooky fun! There will be games, food, limited edition tee shirts, a Halloween costume contest, and of course, our giant ghoul roaming the streets.
FRIDAY EVENTS
1:30 pm - Homecoming parade on main street in Mammoth Spring
3:30 Alumni Meet and Greet - Mammoth Spring School Alumni will gather in the Mammoth Spring Elementary parking lot to catch up on old times.
5:30 Homecoming festivities will kick off at the Mammoth Spring High School gym!
SATURDAY EVENTS
7 am - 10 am - Spring River Lions Club Pancake breakfast in the Mammoth Spring School Cafeteria.
9 am - Dodgeball tournament in the Mammoth Spring School main gym.
11:00 am - Pig Roast, at the VFW post 7831. There will be plenty of food for the whole family. An adult plate will be $15 and kids eat for $10. Plate includes pork, 2 sides, dessert and drink.
11:00 am - Corn Hole tournament at the VFW post 7831. This will be along with the pig roast. Entry fee is $10 and there will be a prize payout.
15 years old and up.
4:00 pm - Event begins. Go to the registration table in front of City Hall to purchase tickets and tee shirts. There will be a package that includes 20 tickets and a tee shirt for $15. Games will be up and down main street as well as a bounce house and other attractions.
5:30 pm - Halloween Costume Contest at the Simmons Bank parking lot.
Categories will be:
0 - 9
10 - 17
18 and up
Group
Best Overall
There will be prizes for each category!
And a grand prize of $95 presented by KKOUNTRY 95!
7:30 Outdoor Movie at the Mammoth Spring Elementary parking lot. The movie will be Halloweentown!
---