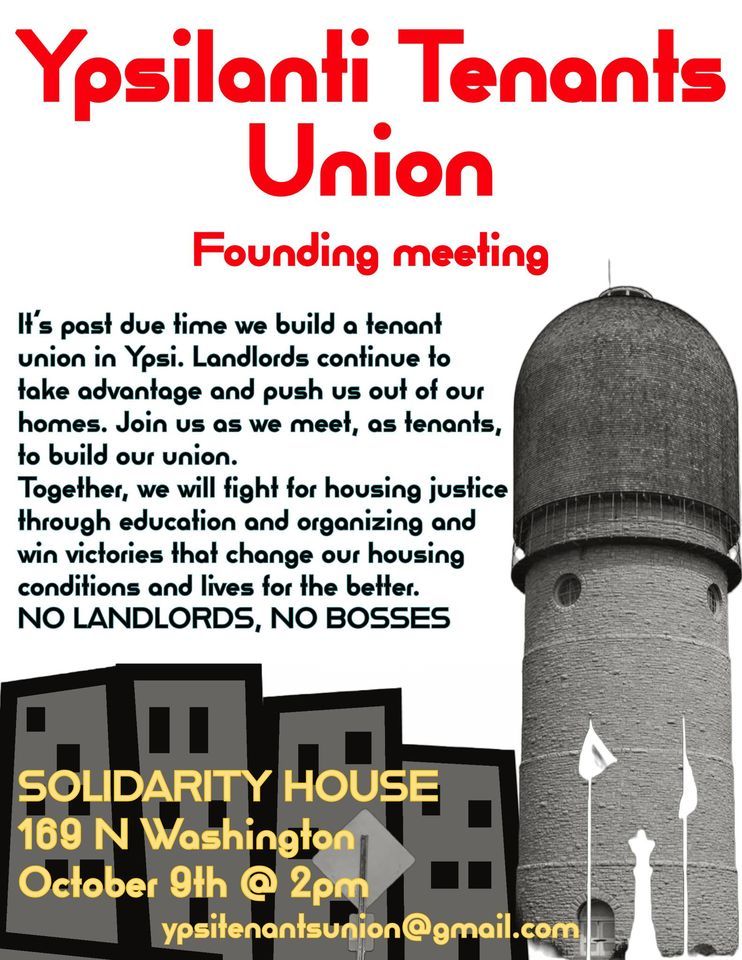 Date

Sun Oct 09 2022 at 02:00 pm

Location

169 n washington, ypsilanti, United States

Organizer

Washtenaw General Defense Committee
It's past due time we build a tenant union in Ypsi. Landlords continue to take advantage and push us out of our homes. Join us as we meet, as tenants, to build our union.
Together, we will fight for housing justice through education and organizing and win victories that change our housing conditions and lives for the better.
NO LANDLORDS, NO BOSSES
_______________________
Join us in coming together to build an Ypsilanti Tenant's Union! All tenants are welcome. If you're not sure if you're welcome to come or not, just ask. We will have homeowners present as well, but the tenants of this union will carry the conversation and decisions and decide from here who we do or do not want to be present at the meetings.
Children are welcome! We will have multi-age activities and people present specifically for the purpose of watching and playing with your children. If you have questions about this, please ask. We understand that trust is important when it comes to your kids.
If the weather allows it, we will be outside, but we are preparing to be inside and we are REQUIRING MASKS. We are doing this to ensure our community's safety and to make this event as accessible as possible. We will have masks available for those who don't have one. If you have a condition which limits your ability to wear a mask, please let us know and we can work something out.
Snacks and drinks provided!
______________________
Physical description of the space:
This event will take place at Solidarity House at 169 Washtenaw Ave, Ypsilanti. Parking is available on the street and in the lot adjacent to the house near the Ypsilanti Bus Depot, and parking is free on Sundays when this event takes place.
The event is likely to take place in the structure behind the house at the end of the driveway that we call Solidarity Hall. The hall has a no-step entrance. There is not a bathroom in the hall, but there is a bathroom inside of the house that all are welcome to use. The house has a three-step entrance in the back.
If you have any other questions about the space, please let us know.
---