Want to organize an event but don't want to pay for Eventbrite? That's okay. Because I have compiled a list of 7 free Eventbrite alternatives that are better than Eventbrite in many aspects.
What will you learn from this Eventbrite alternative blog?
8 Reasons to look for Eventbrite Alternative?
But here's a catch. Event creators are moving towards Eventbrite alternatives because of the following reasons:
1. High fixed service price
Eventbrite charges 2% + 0.79$ per tickets & for premium users 3.5% + $1.79 per ticket which is really higher than other platforms. With that ticket price increases, which leads to a significant reduction in revenue as it affects profit as well as conversion rate.
2. Lower Degree of Freedom
Eventbrite is one of the most restrictive websites when it comes to your event page. Every event has its own structure of forms, salesforce, ticketing options, event management services, event management software, etc. Also, One cannot have their event theme ideas restricted by an Online ticketing platform.
Reports say that every niche has its set of mentality and its attendees resonate with it. Hence, you must check the tools available to customize your event page, forms, etc at the best price.
3. Late Payout
After the ticket order, Eventbrite offers payout plans and often transfers your revenue only after the event date has passed. This might lead to a shortage of funds for hosting the event. Whereas Eventbrite's competitors provide quick or even no delay in fund transfer.
4. Poaching Audience
Eventbrite uses your client data to market other events to them and it may result in poaching. It's like giving your customers options to attend other events like yours which would create a problem for event registration.
5. Customer service
Only chat support is available to general users where organizers have to wait for at least a day. Also, they would prefer premium members over regular clients. But some of their competitors prefer a first come first serve basis.
6. Complex event process
You'll need help from guided blogs to start off with event creation which results in delays in event marketing. This is one of the major drawbacks of Eventbrite and is countered by top Eventbrite alternatives which are cost-free.
7. Premium Membership Costly + Biased
Only premium organizers will get benefits like unlimited ticket type, detailed sales analytics, customer success manager, customizable checkout forms, ticket sales on your site, etc. If you are a small business, then it would be very unfair if you go for Eventbrite. Just keep an eye out for its competitors and you will get services like Eventbrite within budget.
8. Language Barrier
When it comes to global outreach, organizers will want to get their event published in multiple languages. But Eventbrite only allows events in Dutch & English. So it's a no-no if your target audience has a problem understanding these two languages.
Being on the top does not mean it's the best, right?
We've done market research and compiled online event ticketing platforms having the best features, reviews, and ratings that will make them a good Eventbrite alternative. Check them out!
Top Eventbrite alternative: Best Online-Ticketing Platforms like Eventbrite
Eventbrite Alternative – G2 crowd ratings
| Eventbrite Alternative | Ratings |
| --- | --- |
| AllEvents.in | 4.6 |
| Cvent | 4.2 |
| Constant contacts | 4.0 |
| Eventzilla | 4.4 |
| Aventri | 4.2 |
| Go To Webinar | 4.2 |
| Eventsframe | 4.0 |
| Ticketbud | 4.5 |
1. AllEvents – The Best Eventbrite Alternative
It's an event discovery platform where you can create, present, market & sell tickets online. And yes, AllEvents is a completely free Eventbrite alternative.
More than exciting and interesting features, what event organizers seek is a platform that helps in building a community and getting a loyal fanbase that continues to attend their events. All Events is a better alternative to Eventbrite if creating a community and finding more audience is your goal.
They can get your targeted audience for any event type be its a fundraising event, online event, or even hybrid events.
Why AllEvents is the best Eventbrite Alternative?
Top on Google searches
AllEvents has a highly SEO-optimized Event Ticketing platform that helps your event be on top of google searches.
Event marketing tools
AllEvents provides some automated event marketing tools such as –
Send email invites to all your followers with help of event invite templates
Automated booking reminders to an interested audience
Lead follow-ups
Apart from that, they also provide event marketing services to increase event visibility.
Easy to create events
AllEvents offers a guided event page set up for quick and customized designing. It is super easy to create your events on AllEvents.
Pro tip: Check out how to create events for free in 1 minute.
Unlimited ticket types
As an event organizer, you might want to create tickets keeping the audience in mind. Organizers usually prefer ticketing types like early bird registration, discount codes, and general or VIP tickets which create a sense of urgency and temptation amongst participants. AllEvents keeps ticketing types open for all.
Detailed ticket sales Analysis
Event organizers can get full access to sales analysis from the event dashboard provided by AllEvents. A great event planning tool indeed!
Following is the data provided in the analysis report:
People interested in their event
Leads: The people who could not finish their payment process
Ticket sales: People who paid the ticket price for their event
Check-Ins: People whom they have marked as checked-in
Affiliates: List of affiliates if any and the sales report of the same
Customizable Forms for all users
If your event is of some specific niche, then you'll definitely need a customized form that would be different from an event that is from a technical background. It's a rare case where all organizers have the freedom to make changes as they feel fit.
Note: Data analysis is very essential for cross promotion opportunities, ticket revenue, salesforce, etc. So be sure not to sideline it.
AllEvents is One of the Top Eventbrite competitors in this domain.
Account Manager
The company has account executives assigned to event planners to help them with special use cases. As for Eventbrite, they only provide such services to premium users only.
Direct Payment Options
AllEvents support multiple payment options such as Paypal & Stripe. You will get direct payment into your account whenever someone purchases a ticket.
Website integration
You can sell tickets on your website using AllEvents website plugin.
Note: AllEvents provide free website to event organizers. From scratch!
Clients comparing Eventbrite and AllEvents:
AllEvents is faster to reach ROI
AllEvents is much cheaper and more affordable
Better support team
Value for money
You can check detailed comparisons between AllEvents Vs Eventbrite.
2. Cvent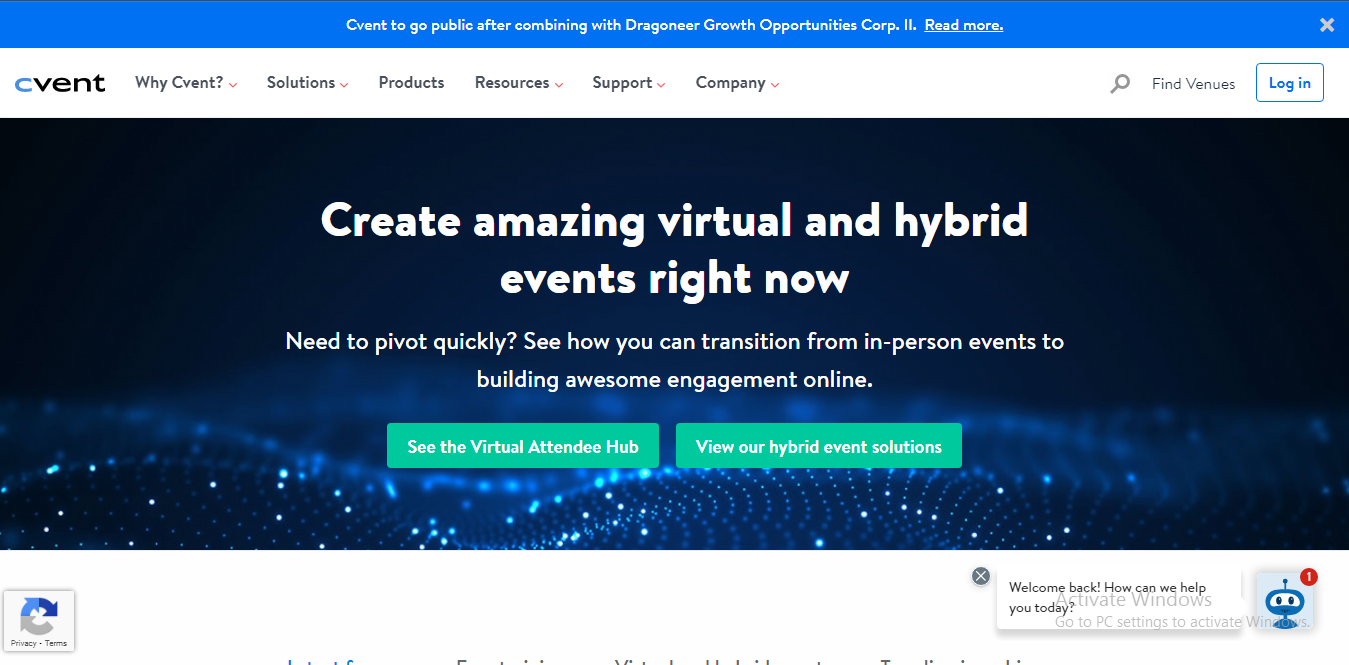 Cvent is an eventbrite alternative that delivers an all-in-one event platform that helps you simplify the management of each stage of the event lifecycle while giving you the data and insights you need to maximize your value.
Whether in-person, virtual, or hybrid, you'll have one platform with everything you need to find suppliers, engage your audiences, maximize sponsor value, and capture important event data.
Cvent Event Management software features
Manage your event in one place
Save your time by automating many of your manual event management tasks.
Increase attendance:
Jumpstart your event attendance with fully-branded multi-channel marketing campaigns.
Services:
Powerful reporting, strategic integrations, and award-winning, 24/7 customer service.
Event Analysis:
Helps to keep your stakeholders informed with standard reports built on the same event reporting platform.
You can minimize time-to-action on your event leads with seamless data flow to your CRM.
Cvent Pricing:
They have not provided information for services but from customer reviews, it would be "safe" to assume that the cost can make you think whether Eventbrite is better or not.
Comparison between Eventbrite and Cvent
Cvent is Slower to reach ROI
It is more expensive
Cvent is much better at client aid than Eventbrite.
3. Eventzilla
It is built to help your businesses put on more successful events. It assists your company to manage tickets for conferences, training, and courses. They also provide a set of tools to help you market your events effectively.
Special features of Eventzilla:
Guided event page setup. A little complicated but relatively simpler than Eventbrite. They also provide a walkthrough for you to get started.
Option to turn off platform branding on event page/emails and fully customizable confirmation email.
Ticket Payouts: This means that the company will act as a mediator for payments. And it may take 1-7 days for a complete transaction to your account.
Eventzilla pricing: Per ticket (3.50% + $1.59) plus additional package costing for more services. The pricing is cheaper than Eventbrite but still costlier than the options available in the market.
Comparison between Eventbrite and Eventzilla:
Slower to reach ROI
Relatively cheaper than Eventbrite
4. Aventri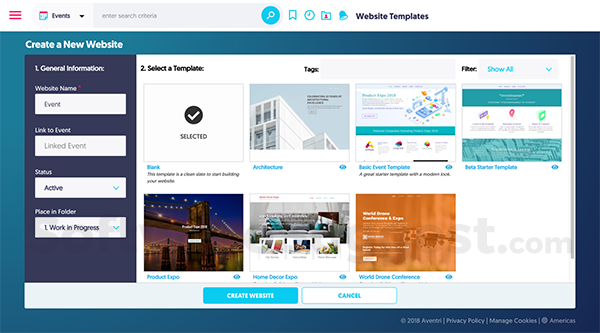 Formerly known as etouches, Aventri allows clients to create valuable in-person experiences, grow influential communities and expand brands. They help brands globally to turn all their in-person, virtual & hybrid events into success.
Services provided by Aventri:
Helps to meet the request for venue sourcing.
Assists in every component of event management including registration.
Event marketing solutions as per event genre and target audience.
Travel & event management solution
Mobile apps to the all-important "experience" at the event with badges and onsite solutions
Their platform connects event attendees and also drives real-time attendee engagement
Provide real-time ROI
Client review comparing Eventbrite and Aventri:
Slower to reach ROI
More expensive
Better at support
5. GoToWebinar
Whether you use webinars for marketing, training, or corporate communications, GoToWebinar puts the fun back into webinars with reliable event technology that's super simple to use.
Takeaways from GoToWebinar:
Personalize registration forms and emails with logos and brand colors.
GoToWebfinar handles invites, reminders, follow-ups and record transcriptions for you.
Analytics dashboard: You can track your event progress and improve your marketing strategy.
Automated communication: They can handle invites, reminders, follow-ups and record transcriptions for you.
You can accept payments from around the globe in advance with Stripe.
Comparison between Eventbrite and GoToWebinar:
Slower to reach ROI
Cheaper than Eventbrite but can be costly compared to other options
Easier to set up
6. EventsFrame
It is designed to be a platform to set up event ticketing for single tickets up to large-scale complex events involving multiple ticket types and discounts. Also, it can help you host a wide range of events like fundraising events and will assist you in setting up an event planning team too.
Services provided by EventsFrame:
Robust backend analytics to see what's working across multiple events.
You can use Facebook Pixel to track conversions and automate search engine optimization.
Users can get the option to customize their event ticketing page with custom images, text and color.
Quite quick and easy set up as compared to Eventbrite.
Your team can have multiple user accounts.
Multiple payment integrations like Braintree, PayPal and Stripe.
Client review comparing Eventbrite and GoToWebinar:
Slower to reach ROI
Easier to get started
Cheaper than Eventbrite
7. Ticketbud
It is an online registration software where you can create event pages and sell tickets online. From community fundraising events to large-scale festivals, you can do it all here.
Let's talk about its constituents now:
Comprehensive and detailed reporting gives you detailed insights into your event performance.
It provides a wide range of tools that helps you to promote your event and get the audience's attention fast.
Pricing: Its cost is relatively less than Eventbrite, but others can be a better option for ROI and budget balancing.
Client review comparing Eventbrite and GoToWebinar:
Slower to reach ROI
Cheaper than Eventbrite
Conclusion
So, we've discussed some major Eventbrite alternatives available in the market. Just ensure that you balance out all options like services, browser compatibility, pricing, premium membership cost, ticketing revenue, ROI, etc.
Did you find the Eventbrite Alternative that meets your requirements?
If you're still confused then check us out at AllEvents and get in touch with us. We will be assisting you with the best services at the most reasonable prices.
Abhishek is a content marketer who specializes in ticketing and event trends happening throughout the globe. He feels that event marketers should easily find the information they need.
Hence, he is responsible enough to gather information and deliver the relevant guidelines to planners throughout the event industry.