The pandemic has forced the world to change, and the most significant change (or we can call it a challenge). During this pandemic, event organizers are shifting from physical to digital platforms. But with change always comes resistance, and overcoming this resistance to change will be the first step towards new success. Event planners are looking for virtual event ideas that can make their event successful and stand out from other online events.
What seems like a crisis to everyone is an opportunity for event creators.
The situation has forced us to discontinue the offline gathering events. But what better opportunity than inviting people to your event from all around the world without asking them to move an inch?
Therefore, this is the perfect time for event organizers to shift towards conducting virtual events. So, have collated some of the vital reasons that might inspire you to host virtual events.
31 evergreen virtual event ideas that #eventprofs should give a try once in their events!
10 Reasons Why You Should Consider Conducting Virtual Events To Succeed –
Virtual events are the need of the hour.
Innovations can be incorporated into virtual events.
Virtual events are comparatively easier to access and organize.
Conducting events online is economically more feasible for both organizers and attendees.
It is easier to get sponsorship as you can reach out to a larger market.
You can invite anyone from across the globe with different time zones.
Virtual events are a sustainable option.
Recurring events are more accessible when conducted on the internet.
Saves commuting and setup time for both organizers and the audience.
Overcomes the limitation of space for the audience.
The reasons for hosting virtual events can be endless. To help you get the best results, we have curated a list of virtual event ideas which event organizers can start hosting.
9 Types of Virtual Event Ideas For Your Upcoming Event
Find your event ideas upon the use case.
Here are types of virtual event ideas that are most compatible to all types of events
Boost event visibility by 3X
With paid ads, you can increase your Christmas ticket sales and maximize ROI.
Promote My Event
1. Fun Virtual Event Ideas
Virtual parties
Staying all day, every day at home is not easy for any of us. We all need a detox from our daily schedule. In a situation where offline parties are neither safe nor recommended, it is a great opportunity for event organizers to take advantage of this opportunity. Also, latest event trends can help you decide with best event theme for your event.
Virtual parties are one of the best virtual events. So, it is the best way to bring people together virtually and have fun. Virtual parties can be in various forms like –
Dance party
Drinking party
Karaoke night
Team games night
Hookup Party
Casual Party night
Chit chat party
In addition to that, the advantage of virtual parties is that it removes the geographical boundation. So, someone receding in the USA can party along with someone living in Australia. You can host your online event at AllEvents.
Virtual speed dating
Finding a date by staying all day at your home can be difficult. Here's where speed dating can come to your rescue. Similarly, organizing a virtual dating event is one of the best ideas for virtual events.
All the participants are randomly assigned a partner for a brief period of time to interact with. After all, the purpose is to find a person who is suitable for you to date.
To host a virtual dating event, all you need to do is invite participants to your event. And then, explain the rules and create random breakout rooms on zoom.
Virtual speed dating can be a fun virtual event that is conducted carefully.
Online game night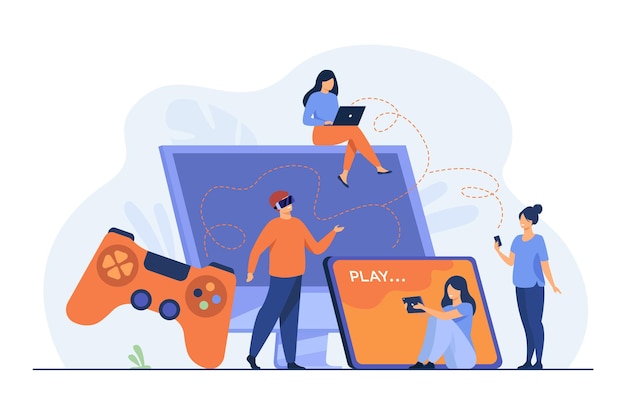 Everyone needs a break from the daily hustles of life. And event organizers are always ready to add fun to the life of people with their creativity. Moreover, hosting an online game night is one of the best fun virtual event ideas.
Online game nights can be a great event where your audience can join to have a good time socializing and relaxing with their friends. So, hats all you need to do is decide on a game, choose your platform, sell tickets with AllEvents, and find an entertaining host. The games you select can be either individual or team games.
Event organizers can plan to organize the following games online –
However, not all the games you plan need to have a platform to conduct. You can simply invite your audience on a zoom call and play basic games. Because the purpose is to provide a good time for your attendees. Online gaming event is fun in its own way, you can chcekout some amazing one's happening at AllEvents.
E-sports tournaments
Important to realize that online video games have become very popular, and teens have become addicted to online gaming platforms. Thus, organizing an E-sports tournament can be one of the best fun virtual event ideas, played in a team or individually. So, many gaming tournaments can be arranged by event organizers creatively. Some of the popular among them are –
Call Of Duty
PubG
FIFA
Modern warfare
Fortnite
Online murder mystery
To point out, one of the fun virtual event ideas is to organize a murder mystery game for your audience. So, this could be a clone of the classic murder mystery game with the added twist of technology.
Indeed, the game can be conducted by sending a brief about the case to the audience pre hand. And the crime scene can be divided into various parts, with sub-scenes having separate breakout rooms. in fact, the audience would be asked to visit each breakout room and observe each thing and clue present. In the end, they would be asked to identify the murderer, and the winner gets a chicken dinner.
2. Event Ideas To Develop Hobbies Virtually
Workshops are the most efficient way to acquire new skills, but they must be planned carefully to avoid becoming monotonous. Planned workshop can do wonders for your event. Moreover, it can be both online or offline. Simultaneously, you just need to make a budget, engage attendees with fun activities and manage your team. Below are some workshop ideas to help with your event goals.
Cooking workshops
Every hand is unique when it comes to cooking food. Moreover, if you feel that you are extraordinary at making something that tastes delicious, why not share it with the world? Online cooking courses have seen a hike in recent times.
The instructor of the event shares their unique recipe with the participants along with cooking instructions. A step-by-step process is exhibited, along with stating the alternate ingredients for some. After that, post the online event and the organizer can send a pdf about the recipe to the event's attendees.
Ideas for online foods and drinks events →
Art & craft – DIY workshop
Many people aspire to become artists in their life. This pandemic finally gave them a chance to learn art once again. Art & craft were already famous for kids below 15 years, as they enjoy making art. But are recently attracting a lot of traction from adults. The art & craft activity workshop can be in papercraft, quilling, calligraphy, origami, water painting, face painting, etc. The live sessions can also invite questions from the audience.
Ideas of online art events happening →
Gardening workshop
One of the unique events that you can conduct online is a gardening workshop. Meanwhile the event is in the form of growing flowers, growing vegetables, growing fruits, and bio-organic farming. The niche would be interested in making their house a better place to live. Above all, they might be interested in developing their gardening skills or their terrace garden. Your event might help them grow their plants better.
Music Classes
People holding an interest in music might want to learn a musical instrument while staying indoors. All event organizers need to find an artist who's willing to teach some instrument, collaborate with them, set a schedule, and publish their event.
The organizer can also find different artists playing different instruments. And offer the course for any instrument demanded by the audience.
Ideas for online music events→
Dance workshops
Many people miss out on working on their bodies while sitting all day long on a chair. People usually seek a way of working out with a fun element attached to it. Dance workshops can be the solution to their problem.
Furthermore organizing a virtual dance workshop can be a very entertaining and fun virtual event. The chance of engaging the audience in the event is pretty high. The workshop can also be in the form of Zumba or aerobics classes.
Ideas of online art and craft events →
3. Educational Virtual Event Ideas
Educational events have gained a lot of popularity recently. Besides with the prevailing situation, the industry tends to grow more in the coming future.
It is very easy to publish your upcoming Event on-demand with AllEvents.in
Start monetizing your workshop now! →
Online academic and skill enhancement Courses
It's never too late to learn a new skill and hence it is never too late to introduce a new course in the market. Educational courses have always been in trend and will keep growing in the future. Besides if you believe you are an expert in any field and would like to share your knowledge. Then you can earn money from it, teaching online can be a great option. Virtual educational courses can be both live or recorded, followed by a live QnA to solve the doubts of participants.
Graphic designing workshop
With the world moving towards digital platforms, the demand for digital creatives is risen like never before. It has become evident to know the basics of graphic design. Be it businesses, educational institutes, or NGOs; everyone now promotes everything over the internet. Meanwhile this is a great opportunity for artists to come up with graphic designing courses.
Some of the graphic designing tools that can be taught as a course are –
Canva
Adobe Photoshop
Adobe Illustrator
Coral draw
Adobe Premiere pro
Adobe After effects
Procreate
Web designing workshop
Having a website for your business has become a necessity. But only having a website is not enough. The website must be visually appealing, covering all the essential elements in the right place. These kind of workshop can help event planners too. To learn design event websites from strach and later can save cost on this.
Moreover, starting a web designing course is a great utility virtual event idea. With demand for websites rising, it is a great opportunity for you to leverage your talent and earn money out of it.
Digital marketing workshop
The world has shifted to become digital, and so is marketing. Meanwhile, digital marketing has become an essential part of any business. Considering the tremendous opportunity ahead of us. Starting a digital marketing course can prove a great virtual event idea. Then some popular aspects one must consider covering in a digital marketing session are –
What is digital marketing and its relevance in every industry
SEO
SMO
PPC
Web analytics
Online Data analytics course
We all know that data is the new oil, and data owners are the new millionaires. But the one who knows how actually to use that data for their benefit is the real king. Data analytics as a study has recently gained a lot of popularity. It is one of the very few career choices where the demand for the required personnel is more than its supply.
Introducing a course on data analytics can be one of the smartest virtual event ideas. You can cover the following topics in your data analytics course –
Basics of software used in data analytics (Excel, python, R, Tableau)
Trend analysis
Descriptive, prescriptive, and predictive analytics
Data visualization
And much more
You can also classify your course as a beginner, intermediate or advanced.
4. Socializing Virtual Event Ideas
Conversations over coffee
Social distancing is not social disconnection. Humans need to socialize. And especially when the times are hard for everyone.
Video calls with families and friends are always fun. But how about getting into an escape room with strangers!
A virtual event that acts as a medium for people to have conversations and connect socially can be beneficial. Such events can be a great place where people can come and enjoy the evening while sharing their life experiences over coffee chats. The host for the virtual event must be very enthusiastic and should have the ability to engage with the audience.
Examples of social events happening →
Virtual pet meets
Pet meets had been very popular back when things were normal. These meetups were an excellent opportunity for pet owners to socialize. It also gave them an opportunity to play with other pets.
Organizing an online pet party is a great opportunity for event organizers to invite pet owners worldwide to join the event. Interact with other pet owners and learn about different breeds of pets.
Traditionally, pet meets were organized only for animals like dogs and cats. But with the increasing technology and virtual events getting familiar, event organizers can leverage the benefits and organize aqua pets' meet.
Examples of online pet meet happening →
Fundraising events
Events with a social cause always work out well, and leveraging technology to help society is always a good idea.
To raise funds for a social cause, different activities can be conducted. Some of them can be –
Making a gamified dashboard showcasing who raised the maximum amount of donation
Assigning badges to participants over a threshold
Conducting different events with the sole purpose of donations
Marathons
Selling stuff made by specially-abled people
You can create your fundraising events on AllEvents
AllEvents does not collect any fees on Donations.
5. Virtual Entertainment Event Ideas
Online live concert
Organizing a live concert requires excellent planning, efficient coordination, and perfect execution. A lot goes into making a live concert successful. But things can somehow be different in the case of organizing a virtual show.
A live concert can be a great way to engage your audience and entertain them while at home. The fun of being together in the crowd, and cheering the artist is surely something that virtual concerts can not provide. However, these events can be very successful for artists playing soothing songs. Virtual concerts can also be an excellent platform for new artists.
Examples of online concerts happening →
Open mics events
Open mics are the platform where amateurs or professionals could perform a piece of narrative in poetry, story, or standup comedy. They have always been a prevalent event, but the pandemic has paused offline open mic events.
However, it is comparatively easier to conduct online open mics as event organizers would now be free from the hassles of Venue and AV arrangements.
Virtual open mics also remove the limitation of promoting the event only to a geographically specific audience. With virtual open mic events, you could invite anyone from anywhere.
Examples online open mics events happening →
Standup comedy
Everyone needs a dose of happiness from time to time. Therefore, standup comedy can be the best source to make people laugh in these difficult times. Organizing a standup comedy show is a great fun virtual event idea.
A virtual standup comedy show is a win-win situation for everyone. Firstly, event organizers do not have to hustle for arranging venues, audio, and lighting setup. Secondly, the performer or artists can choose the location suitable to them and props if they would like to use them. Thirdly, the audience can enjoy the show the way they want to and save on the cost of commuting.
The show can later also be uploaded on youtube for earning additional money.
Examples of online comedy events happening →
Talent Showcase
Everyone is a star at their home, and all they need is a platform to perform. Firstly, providing such a platform to the audience to showcase their talent can be one of the best fun virtual event ideas. Secondly, you can arrange talent shows wherein participants can showcase any talent they would like to present to the world. Thirdly, the tickets for the show can be sold differently for the performers and the audience. These talent shows can be enjoyed along with family members. It is up to organisers' discretion whether to organize it in a competition or just a fun virtual event.
Magic show
Everyone likes to see something that excites them, and magic shows do the same. Traditionally magic shows have been a prevalent mode of entertainment events, but in recent times, things have changed. Above all, the person who can do magic live can do better magic virtually.
Magic shows can be the best fun virtual events that can be enjoyed with family members.
Examples of online magic events happening →
6. Sports And Adventures Virtual Event Ideas
Virtual marathon
Virtual marathons have become very popular in recent times. Such virtual marathons are generally organized for a social cause but can also be arranged for other purposes. Therefore, virtual marathons can be one of the great virtual event ideas to showcase different cultures coming together for a cause.
The speciality of these marathons is that you don't run in groups but on your own. Event organizers need to plan the time, distance, and goodies to be sent to the participants.
In addition, each participant goes running and has to submit proof of the route he covered. Meanwhile, this can be done with the help of google maps and the time he took to cover the distance.
Post submission, an e-certificate can be sent to the participant.
In some events, goodies are also sent to the participants via mail.
Examples of virtual marathon events happening →
Fitness as your friend
Staying home and staying fit are inversely proportional for many of us. In such a situation, event organizers must not let go of such an opportunity.
When everyone's trying to be productive and fit, an online fitness class can be a great idea for virtual events. Moreover, participants can join from their home and exercise with everyone over a zoom call according to the instructor's instructions.
At the end of the training session, various awards can be awarded to participants to boost their morale.
Moreover, fitness events can be recurring events and can be renewed by participants every month.
Virtual trekking and adventures (VR)
Every crisis comes with an opportunity.
There was a time when we used to think that to enjoy nature, we have to climb mountains and go to river banks and dive deep into the oceans. Well, with the advancement of technology, now you can enjoy the experiences of a world tour right from your home.
Virtual trekking and adventures have become very popular recently.
Examples of virtual trekking and adventure events happening →
Yoga, spirituality, relaxation workshops
We are all familiar with the quote – 'Health is wealth'. And taking care of your health during these difficult times is very crucial. But mental health is equally important as physical health. Healing from inside your soul can solve many problems in your life.
Event organizers can organize daily or weekly Yoga sessions where attendees can join to make their minds calm. Different breakout sessions can also be conducted in these types of events. The main purpose of this virtual event would be to provide relaxation to the attendees.
Examples of online yoga events happening →
7. Virtual Business Event Ideas
Business webinar
Businesses around the world are changing. Some companies are facing great losses, while some are skyrocketing their profits. Business people worldwide are trying to cope with the changing trends after the pandemic. They seem to show great interest in learning new things from those who have successfully managed their business.
Business webinars are one of the best ideas for virtual events. Moreover, successful business people want to talk about their success stories, and those trying to incorporate change tend to learn how to do it.
Business webinars can be followed by networking sessions where attendees can get along with businesspeople and develop their network. In addition, networking sessions can be one of the best offerings to sponsors. Promoting webinars is an important aspect. After all, you want to increase the number of individuals that attend your webinar.
The biggest challenge in live webinars was to invite guest speakers and take care of their hospitality, whereas it is comparatively very easy to invite guest speakers in virtual business webinars.
Online exhibitions
Online exhibitions can be a great way to promote and sell products. It can be in two forms – a single company exhibiting various products or a trade fair.
Artificial intelligence can be incorporated into the exhibition to make it more exciting and lively. The chances of the audience turning up for the event would be more than traditional exhibitions and fairs.
Sponsorship can also be raised from exhibitors interested in exhibiting their brand.
The online exhibition can also be held to showcase artworks of single or multiple artists.
Online networking events
Networking today has become very difficult yet stays a crucial aspect for any business. Besides businesses are finding new ways to develop their network worldwide. One of the popular ways to broaden your network is online networking events. Nowadays, these events can be conducted in two forms. Firstly, where an organization is organizing an event to promote the event and expand its network. Secondly, organizing a virtual trade fair, where different kinds of virtual stalls. And these stalls be arranged where owners and coworkers can sit on the video call of the company's respective virtual booth. Technology can play a very crucial role in managing virtual networking events.
8. Promotional Virtual Event Ideas
Book reading / Book launch
All virtual events need not be entertaining people; some events can be as simple as book reading. A community of book lovers would be very interested in attending such events.
A reading of a scarce book organized in the form of an event can do wonders. Such events can also get sponsorship from the newly published book for reading their book.
This virtual event idea can be a great daily routine.
Product launch
You can not give a live product experience to your audience, but you can surely provide a much better and detailed product experience to your potential future customers. Technology has advanced, and so every business must take advantage of it. 3D product view launches can prove to be one of the most creative ways of showcasing your new product. Also, plan a product launch in such a way that it attract larger audience pre-launch. You can conduct survey to know what your audience is looking for.
9. Virtual Event Ideas For Kids
It is a known fact that we develop our brains when we are kids. Engaging kids in various activities is essential to keep them away from inappropriate things. Organizing online activities for kids can be one of the best ways to earn revenue.
Event organizers can organize the following events for kids –
Handwriting/calligraphy
Abacus/speed math
DIY/Art & craft
Culture & Heritage
Sponsorship Ideas For Virtual Events
Things might have shifted online, but the requirement of finances to manage the event remains the same. Companies today are a bit hesitant to sponsor events, not being sure about how the virtual event would generate results. While sponsors are hesitant, it's the duty of event organizers to provide them with extraordinary experiences.
Following are some of the offers that you can propose to your sponsors –
Company's logo on event promotion creatives (Post, posters, banners)
Company's logo on event ticket
Inclusion in event promotion videos
Dedicated space on the event website
Ad banners on the event website
Free tickets for the event
Dedicated space on virtual backgrounds
Virtual stalls
Media promotions
Dedicated post on social media handles
Sponsors' session
Email marketing
Product display space and time
Sponsor's swag bag
Company's logo on the certificate
Breakout sessions with sponsors
Tech incorporation ideas for virtual events
The best part about virtual events is the endless opportunities of integrating technology creatively. The use of technology can make even a simple virtual event wonderful. We have some tech ideas that you could incorporate into your next virtual event.
Automation
Make automation your new best friend and let him do the work for you.
A lot of automation can be incorporated into your virtual event, which reduces your use of manpower and resources and improves the accuracy of the activities. Some websites can do the job for you.
Allevents.in is a platform that provides various automation tools for hosting your virtual event.
Automation in booking
Reminder emails
Integrated calendar
Website integration
Facebook events integration
Use of interactive tools
You can use various tools and conduct various activities to engage your attendees.
Live polls – Mentimeter
Live tweets
Virtual backgrounds
Animated backgrounds
Filters
Digital avatars
3D platforms/ Virtual reality
Event organizers can not arrange gatherings for attendees in real, but they can surely stimulate the gatherings imitating the guests, sponsors, and performers virtually. 3D platforms have recently gained popularity as a mode of conducting virtual events.
These platforms offer 3D avatars of guests, stages, stalls, booths, etc. Everything can be customized based on the will of event planners.
You can make the sessions of your virtual events so interactive by delivering a delightful experience to your audience.
Make your ordinary virtual event into a creative and fun virtual event.
Live stream of your event
Live stream of your event can be a profitable way of conducting events. All that attendees require is a device and a stable internet connection. And you are good to go. You can stream your session to thousands of people irrespective of their time zones. Furthermore, the event management tools available on the market might make this event planning a little easier.
AllEvents is a platform where you could host your live event accessible to only those who have bought your ticket. You could easily configure your live webinar with any of your streaming platforms like zoom, https://restream.io, or OBS.
Schedule a demo for live streaming of your next event now →
Abhishek is a content marketer who specializes in ticketing and event trends happening throughout the globe. He feels that event marketers should easily find the information they need.
Hence, he is responsible enough to gather information and deliver the relevant guidelines to planners throughout the event industry.