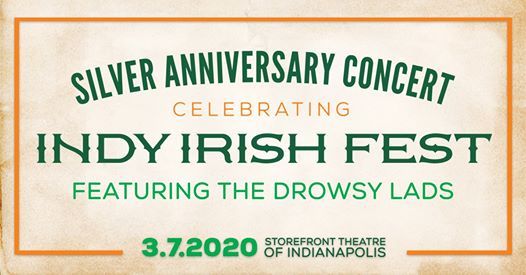 Date

Sat Mar 07 2020 at 06:30 pm to 10:00 pm

Location

Storefront Theatre of Indianapolis, Indianapolis, United States
We're celebrating 25 years in the Circle City with a special Silver Anniversary Concert featuring fan-favorite: The Drowsy Lads. Join in the pre-St. Patrick's Day shenanigans.
Indy Irish Fest's Silver Anniversary Concert
Saturday, March 7
Door open at 6:30PM
Tickets: $20
Storefront Theatre, 717 Broad Ripple Ave., Indianapolis
Must be 21+ to attend.
TICKETS:
https://red.vendini.com/ticket-software.html?t=tix&e=27d6cb73d2277f3625d1140a5a0f28a7