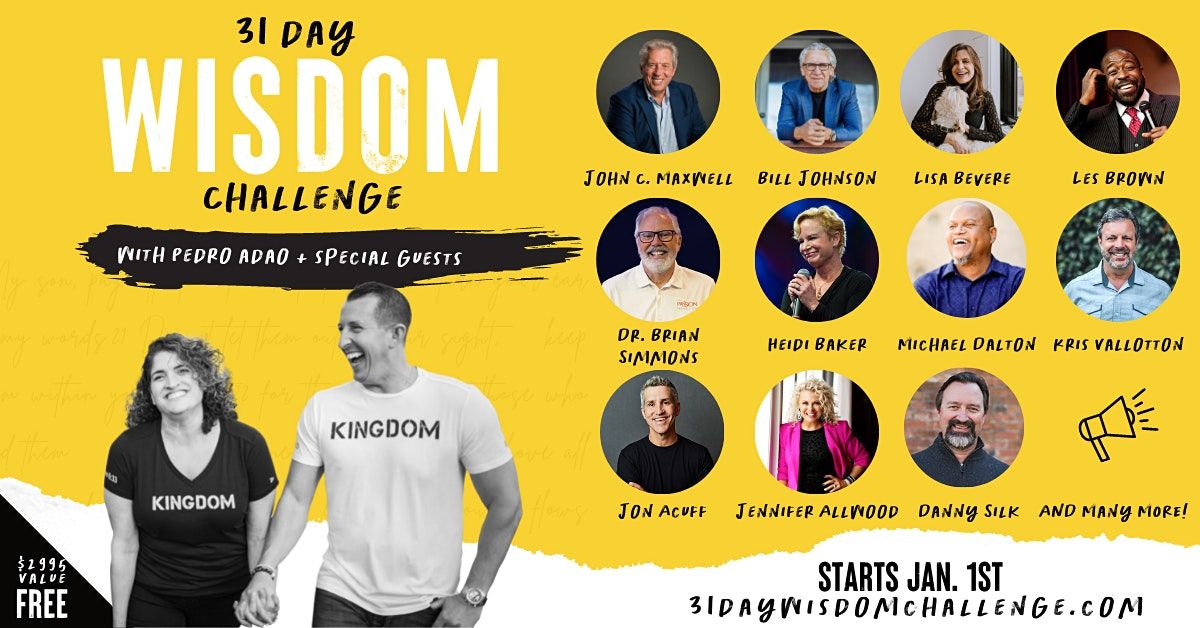 Date

Sat Jan 01 2022 at 12:00 pm to Mon Jan 31 2022 at 12:00 pm

Location

New York City, NY, United States

Organizer

TASTE AND SEE FREEDOM ~ Michael and Hilare Moniz share worthy events by 100X and others that bring enrichment, growth and development for individuals, marriages, families and business.
KICK-OFF 2022 WITH THE 31 DAY WISDOM CHALLENGE
Grow In The Wisdom of God In This Daily Live and Interactive Journey Through Proverbs.
About this Event
Please go to Hilaremoniz.com to register
Dear Fellow Lover of Wisdom,
2021 surprised us all!
For many, this year brought frustrating and unexpected challenges...
and for some, sadness and even calamity.
Maybe like me you're probably sick of hearing about the shutdowns, vaccines, economic challenges, and the "new normal."
And yet despite all that's been going on, there's a new year right around the corner...because 2022 is now just a few days away.
I wonder what surprises, delights, challenges, and opportunities will we face in the new year?
The truth is nobody really knows...
BUT I DO KNOW THIS...
But you have a choice!
If you're like me, you believe that…
The Wisdom Of God...Really Is The Principal Thing!
"Wisdom is the most valuablecommodity - so buy it!" - Proverbs 4:7 The Passion Translation
If you're you want to experience even more of God's goodness, favor, and prosperity in 2022 all while making a massive impact for the Kingdom.
If that's the desire of your heart then I want to invite you to what I believe will be the one of the most significant events of 2022...
The 31 Day Wisdom Challenge!!!
Join me Pedro Adao, Founder of the 100X Academy for a daily journey through the Book of Proverbs during the month of January.
I can't tell you how excited I am to bring to you friends and colleagues of mine who are making a massive kingdom impact in ministry, the marketplace, in education, and even in government.
Each of them will be sharing powerful testimony and revelation from their personal study and application of the Book Of Proverbs.
If you are ready to prioritize the Wisdom of God then click the button below and be sure to get registered right now.
Obviously, this is a time-sensitive invitation, so you're going to want to get registered while you still can for FREE.
I can't tell you how excited I am to start announcing the incredible line-up of revelatory teachers and prophets...
and the incredibly successful entrepreneurs I have lined up to share with you, very private and personal study notes...
from their own search for the wisdom of God as provided in the Book of Proverbs.
If you hunger for increased wisdom and kingdom revelation...
and are committed to 2022 being a year of favor, prosperity, and breakthrough...
then, I couldn't recommend this 31 Day Wisdom Challenge to you enough.
I invite you to click the button and join us for this one of a kind 31-day journey for kingdom-minded believers who desire to grow their income, influence, and impact.
Please go to Hilaremoniz.com to register
- Pedro Adao
8-Figure Kingdom Entrepreneur
Founder Of The 100X Academy
Fellow Lover Of Wisdom
PS: When we first ran this challenge, over 4,711 people gladly paid $31 to get access to this one of a kind deep dive into being mentored in the Wisdom of God...so go click the button below and get access to the 31 Day Wisdom Challenge while you can for FREE.
---