Need the best Halloween party ideas? Want to throw an amazing party this Halloween?
With Halloween coming up, event planners are going crazy to make their party absolutely fun and unique.
Even the best event planners get "idea block", which can get pretty challenging to get new ideas and inspirations.
Well, don't panic. Instead, make your Halloween Party Spooky with us! We've included brilliant ideas inside and out for your Halloween events.
Whether you are throwing a Halloween party at work, at home, or at any place, we have got it all covered for you. Form adult Halloween party ideas to teens Halloween party ideas that will get everyone talking about your party.
With these spooky ideas, we're sure your attendees will go from "Why attend this event?" to "We'll definitely attend this event." So, make them go WHY to WOohu.
Let's get spooky and scary.
Collection of Best Halloween Party Ideas For A Spooktacular Festival
@allevents_in #eventprofs #events
Spooky Ideas to Support Halloween Party Theme
Halloween is all about spooky and haunted Halloween decorations. Here are some must-haves in your Halloween theme party ideas.
1. Trick or Treat Booth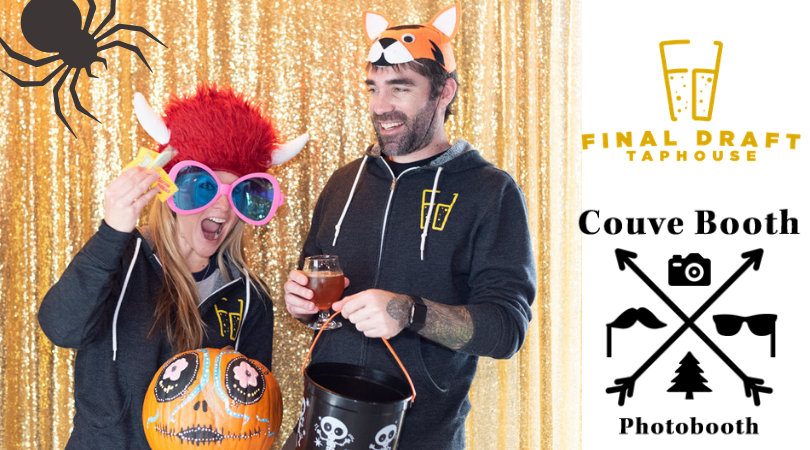 Be it adults or teens- everyone loves to click pictures. Trust us, the trick-or-treat booth will keep your guest entertained, and it will not be empty for a second. Create a hunted photo booth with scary pumpkin jack o lanterns, spiders, and white ghosts.
2. Halloween Ticket Invitations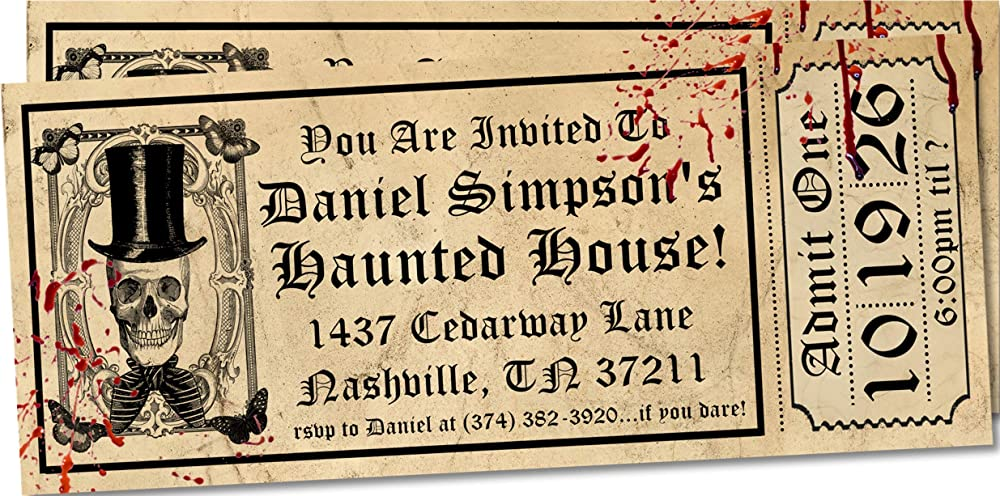 Well, it is obvious you are going to send invitations for your Halloween event. Why not make it unique? Unique event invites are eye-catchy and highly grab audiences' attention. It's a way to engage your attendees pre-event and does Halloween party promotion ideas.
3. Creepy Candles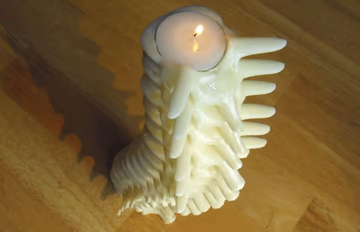 Candles are normal, but how about creepy candles? Light up your candles with some twist and antique style. You can put it on tables, the fireplace, the entrance, the door, or anywhere you want.
4. Paper Garlands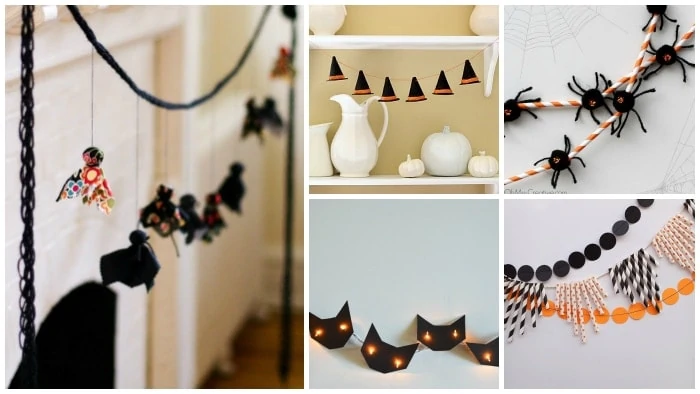 Paper garlands make the easiest DIY decor. Cut paper bats or spiders, attach them to string and put them anywhere you want.
5. Spooky curtains and drapes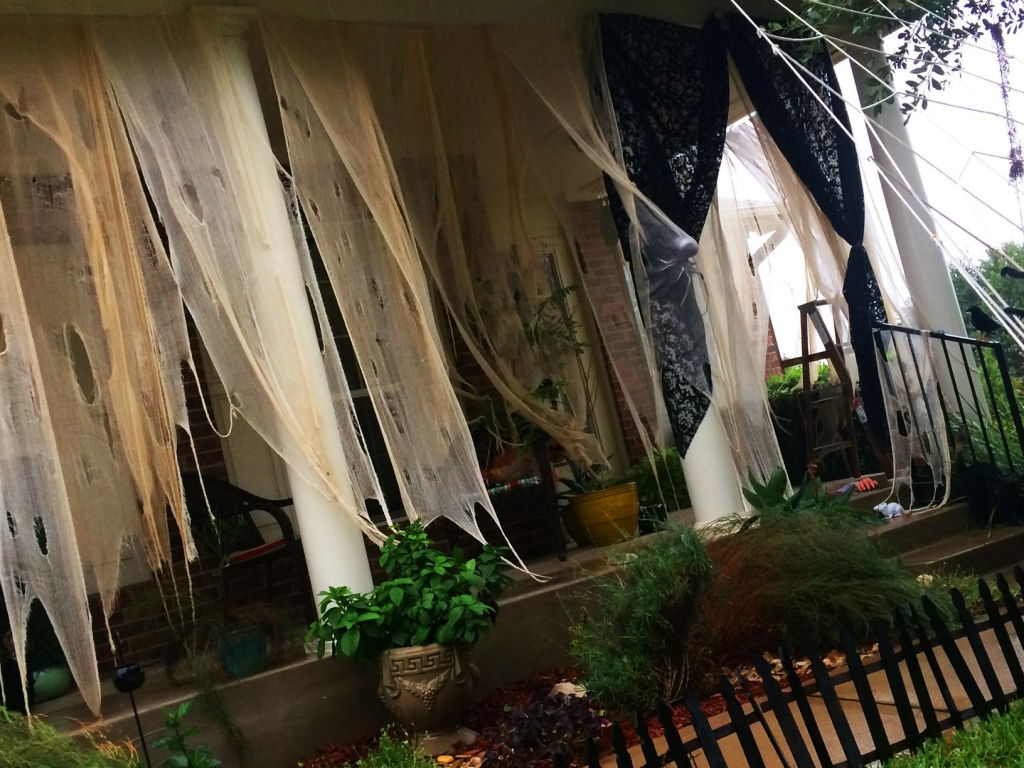 Throw some drapes here and there, and you are ready with your Halloween-themed plot. You will definitely find some old fabrics lying around in your storage and put them to good use.
You can refer to the following Halloween Craft Ideas to support your Halloween theme
Halloween Party Ideas for Adults
You don't want your event to be dull and boring. Halloween party themes and activities are important. Without the activities and theme, there is no fun at the party.
6. Scavenger Hunt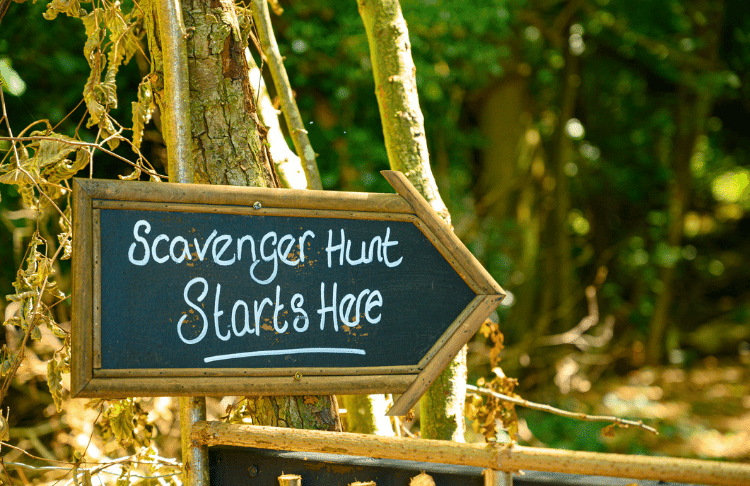 Themed scavenger hunt will never go out of the themed and fun party ideas for Halloween. It's a perfect game for everyone. It only takes a few props and materials to organize a Halloween scavenger hunt.
If you have a big venue, it would be fun to organize a scavenger hunt game.
7. Haunted House Party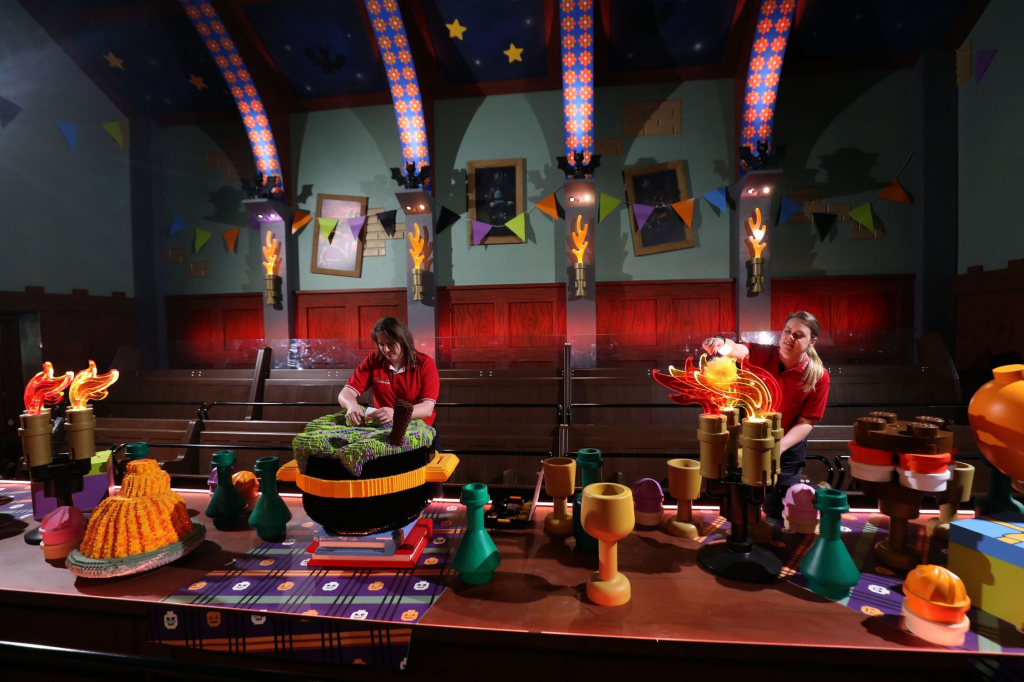 Haunted house parties get people excited. Spooky places, especially haunted house events give a different touch of horror to celebrate Halloween. Prepare ghostly house rooms according to the age group of people. Don't make it too scary for teens or too boring for adults.
8. Murder Mystery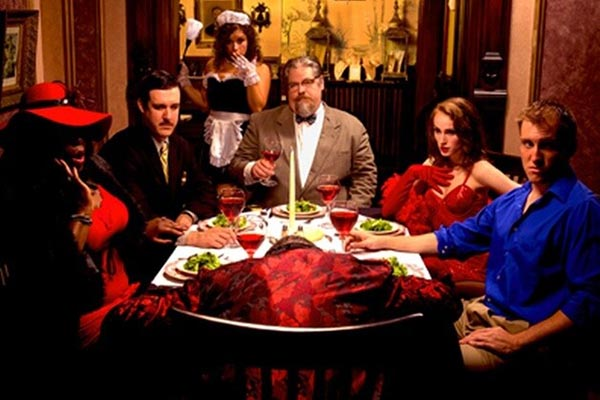 Let's put our brains at work! All you need is a great plot, and you can make your Halloween party the best one.
For a large group, a murder mystery is a good fit. In a murder mystery, everyone can have their part to play. With multiple characters involved, people can choose to be a detective, a guest, or anything they want. There are multiple plots from which you can choose.
See How Event Planners
have showcased their Halloween events.
9. Ghost Tour in the City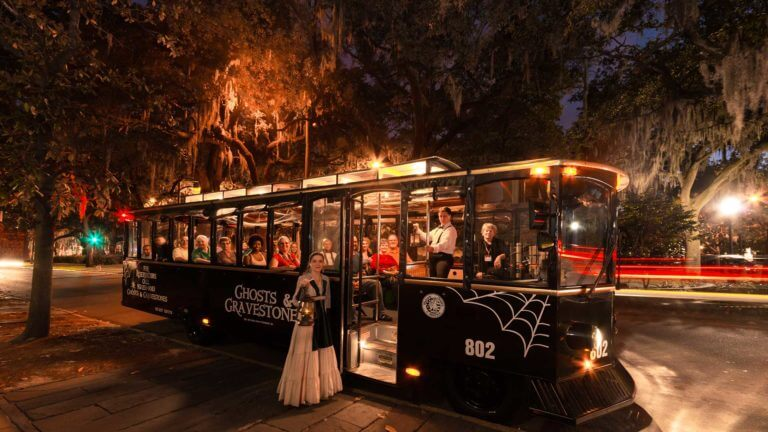 What if you make the entire city your Halloween party spot? During Halloween, each street and block has something to tell. So why not collaborate and make it a big fat adventurous event?
Go to some haunted place around the city and get to know some interesting stuff. Find the best places in the city to celebrate Halloween.
10. Haunted Movie Trivia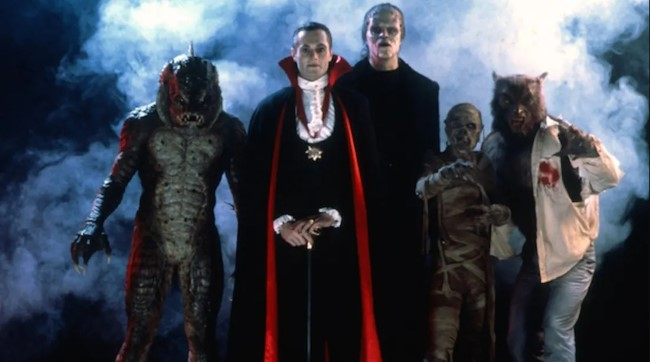 Movies are a great savior for the last-minute planning for Halloween parties. Organize a party with some classy haunted movies, drinks, and good food. Don't forget to keep the lights off.
11. Halloween Concerts and Dance Party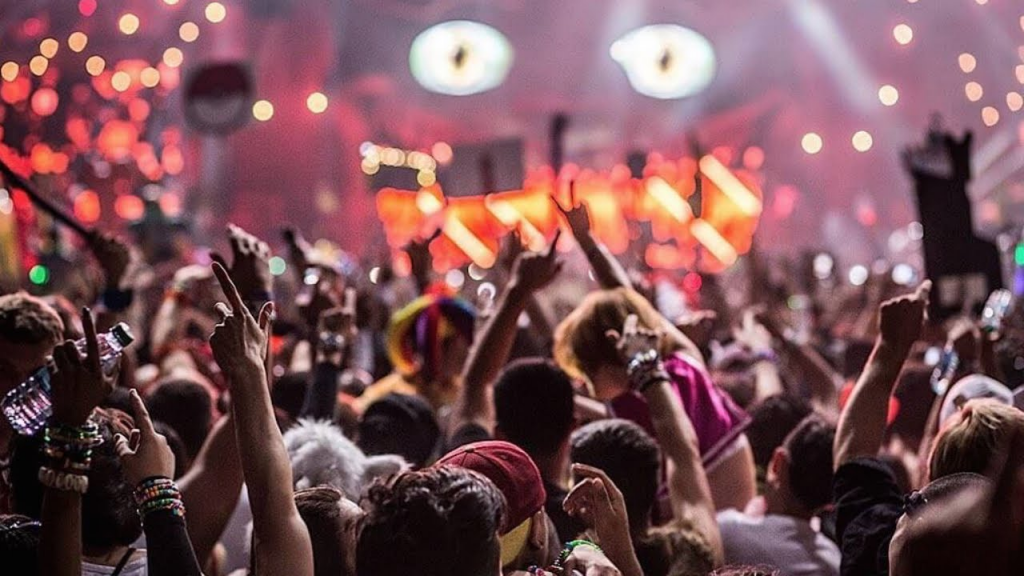 Neon parties make widely popular Halloween party ideas. There is nothing like music and dance parties that unite people. With a blend of live music, dance party, and cocktails, you can keep the energy of your Halloween party high.
Halloween Party Ideas for Teens
Of course, you can't keep kids out till late. And for event managers, it is challenging to plan parties for teens as they are high on an adrenaline rush and sporty. So here are some fun Halloween party ideas for teens to keep them entertained.
12. Pumpkin Painting and Carving Event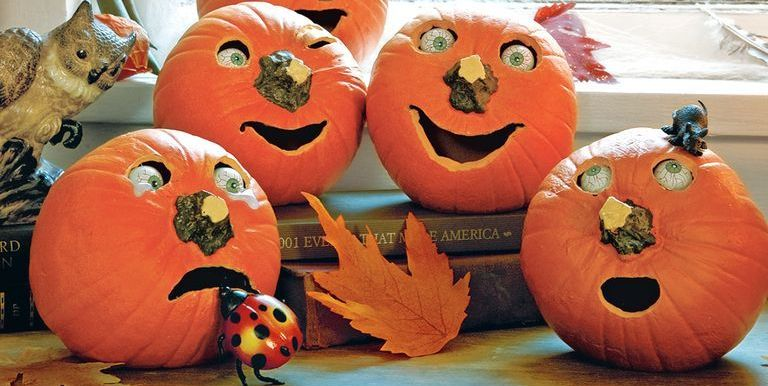 Paints are always special for kids and teens. Including pumpkin painting activities in your Halloween party for the kids, you can make things interesting and creative. Also, pumpkin carving is great fun with adults too.
Just be careful with the carving tools.
13. Ghost Hunting
Just like adults, ghost hunting is fun for teens too. For teens, haunted stories and scary setups are way too exciting. Kids just love ghost hunting. Mix things up with magic to create a scary set, show paranormal activities, and add some intense scary music to make it a really good ghost-hunting Halloween event for kids.
14. Halloween Charades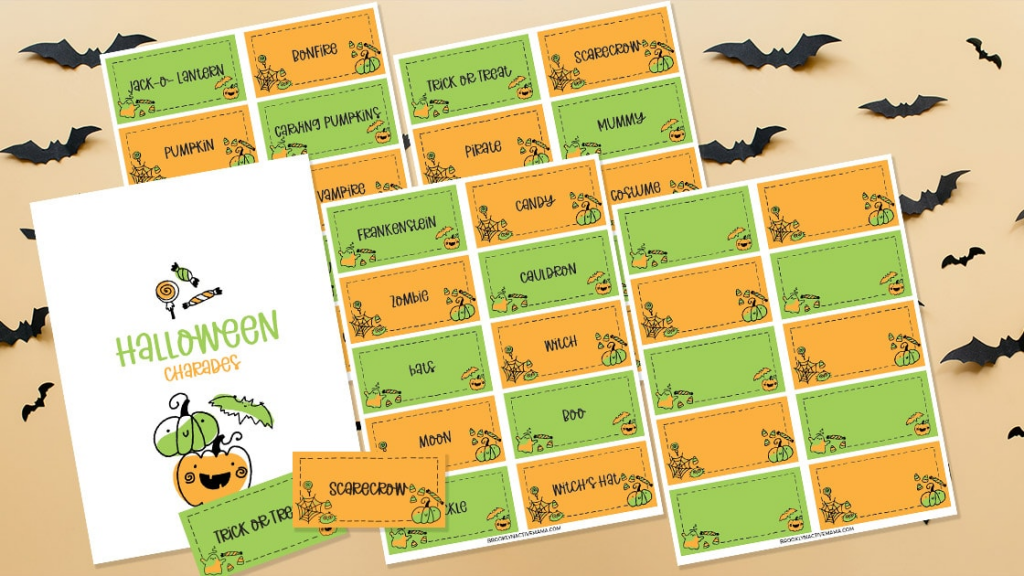 Halloween is all about putting up the best costumes. And no one else more than kids loves to dress up. Ask teens to dress up as their favorite characters from horror movies or t.v shows. For charades games- divide teams and get started with the game. Please keep special treats for the winning team. Or you can just have a costume contest.
Tap into Halloween trend

Our website visitors are always hungry for more events.
Halloween Food Ideas for Fright & Fun
If it was like any other concert or event party, event organizers would have not to worry about food and drinks. But well, here event planners need to keep food and drinks in check.
And what's more? That your food and drinks need to go along with the Halloween party ideas. To cut some slack for event planners, here we have a list of food and cocktails.
15. Pumpkin Pie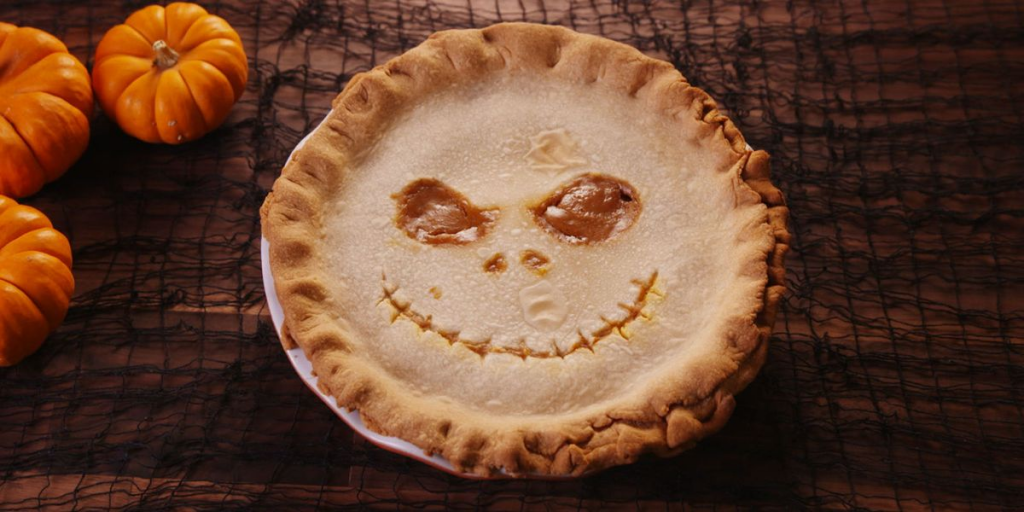 Party is not complete without pie. Bake a delicious pumpkin pie, and make it sweet, savory, and spooky.
16. Candy Corn Cupcakes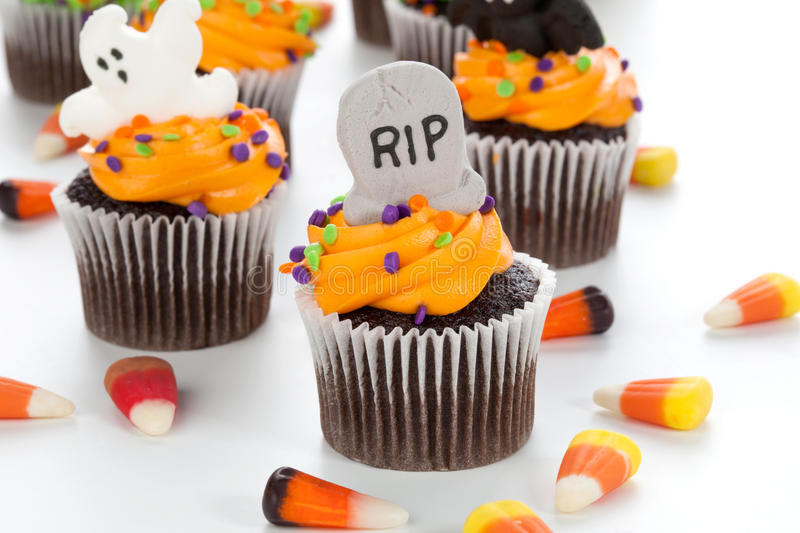 Orange and yellow banter is never going out of Halloween appetizer candy treats. Greet your party guests with these unique candy corn jello cupcakes. Serve them with cream, marshmallows, and a few candy corn pieces on the top.
17. Mummy Brie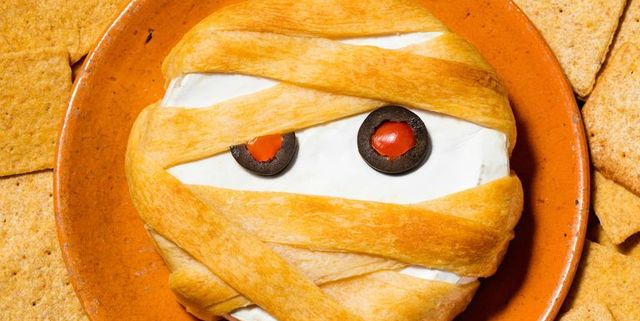 Some spicy sauce dips on the plater are something, isn't it? To match them with the party favors, wrap the sausages in puff pastry to make them look like horrified mummies.
18. Sweet Spider Web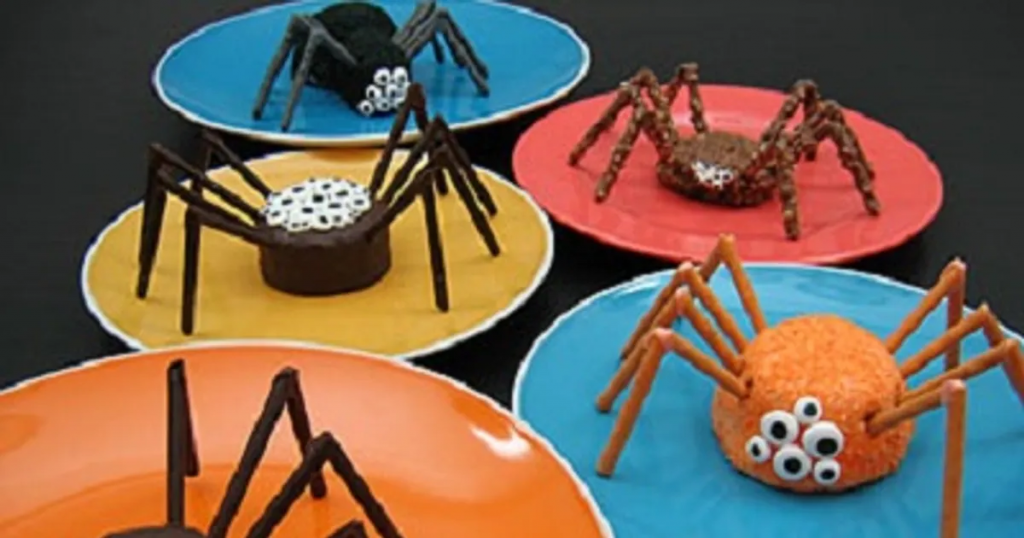 Cupcakes with cream frosting, sugar toppings, and webs are a perfect way to fright and are fun with your guests.
19. Cookies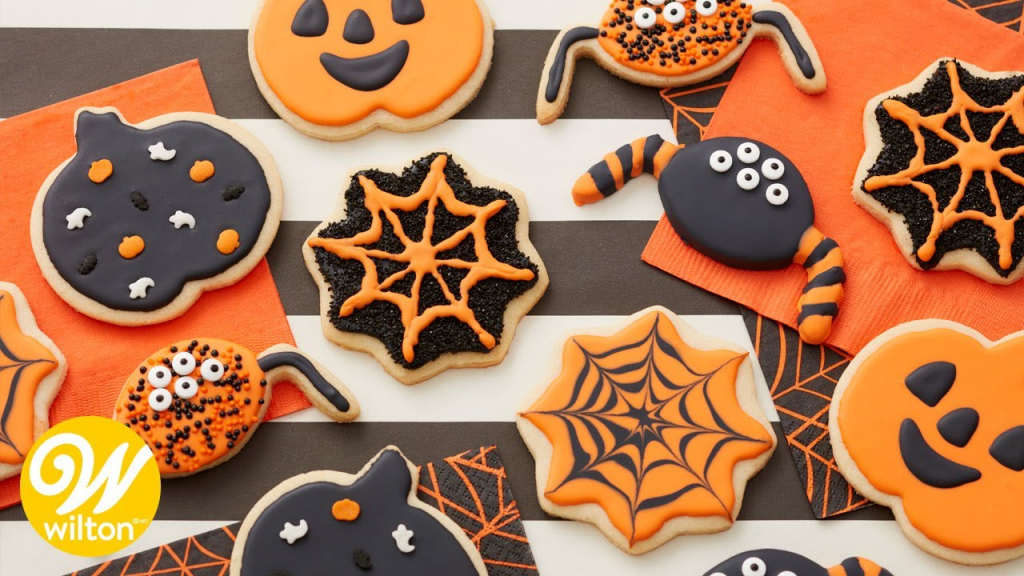 You don't need everything to be sweet. Get creative with cookies. There are plenty of things you can do with cookies. Moss graham cookies, one-eye cookies, or anything you would like to present with your Halloween party food treat.
20. Monster Pizza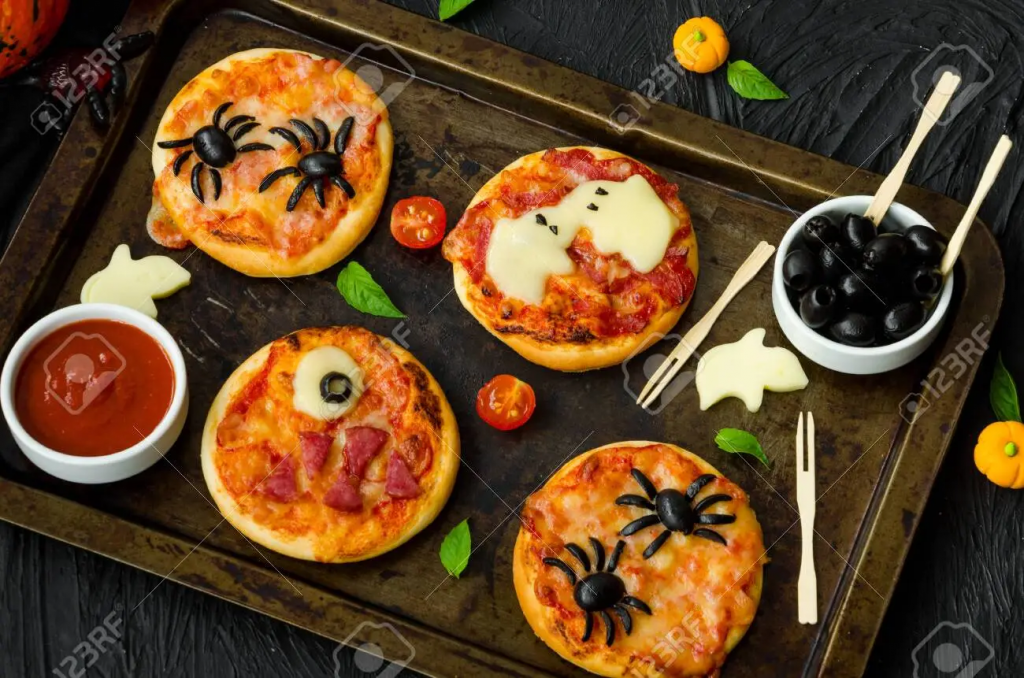 Nobody would say no to a pizza. Normally, people won't like bugs on their food, but your guest will love these olive bugs on their pizza. And if you don't like olives, there is always cheese.
21. Scary Finger Dips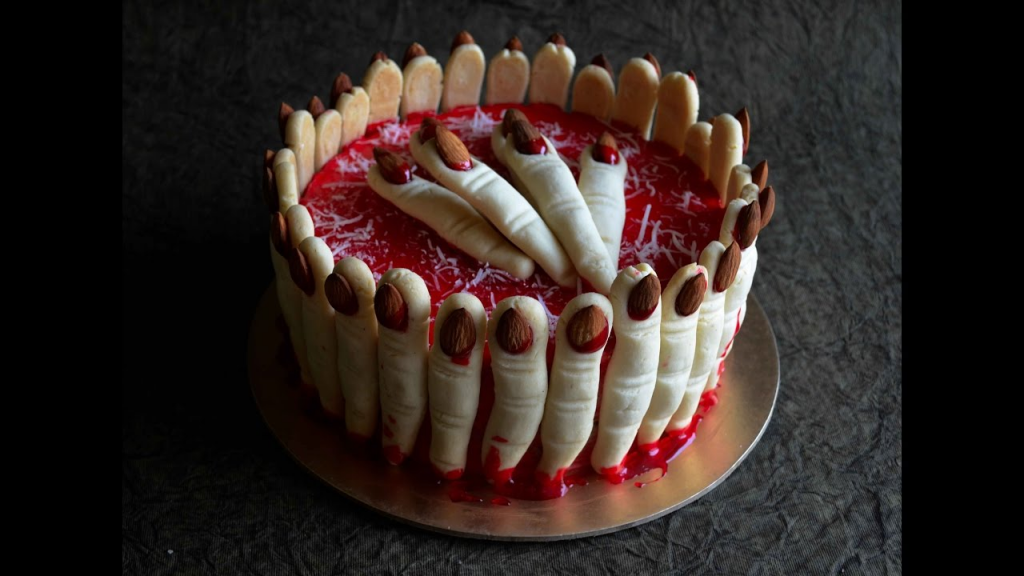 Boo-Scotti! Scary Halloween food that will transform your store-bought biscotti into boo-scooti just in a minute. Trust us, finger dips make good Halloween appetizers. And they are quick to make.
22. Ghost Wraps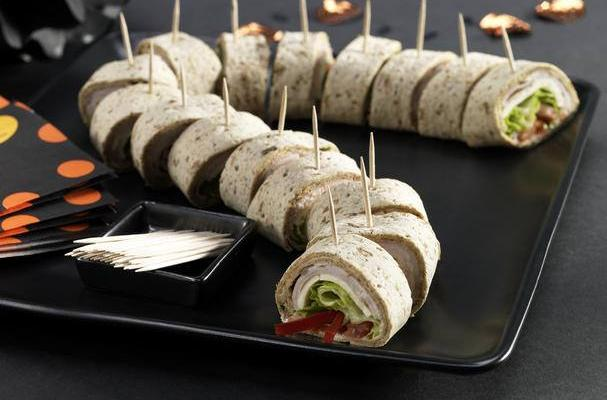 Ghostly graveyard wraps will make your guest go boo! They are easy to make, taste amazing, and before you know it, they will be gone from the plate.
23. Pumpkin Burgers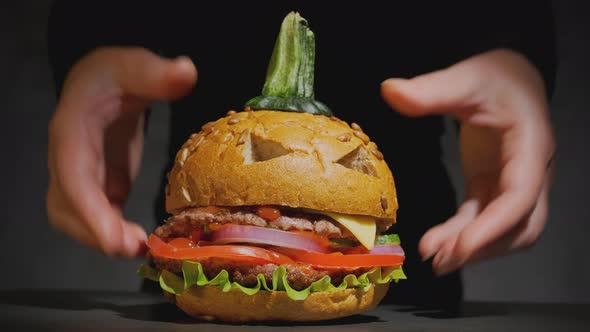 Burgers are a big go if you have kids at your party. Cut eyes into bread, put in some veggies, cut cheese into shapes, and assemble them together. Easy and quick.
24. Pumpkin Crostini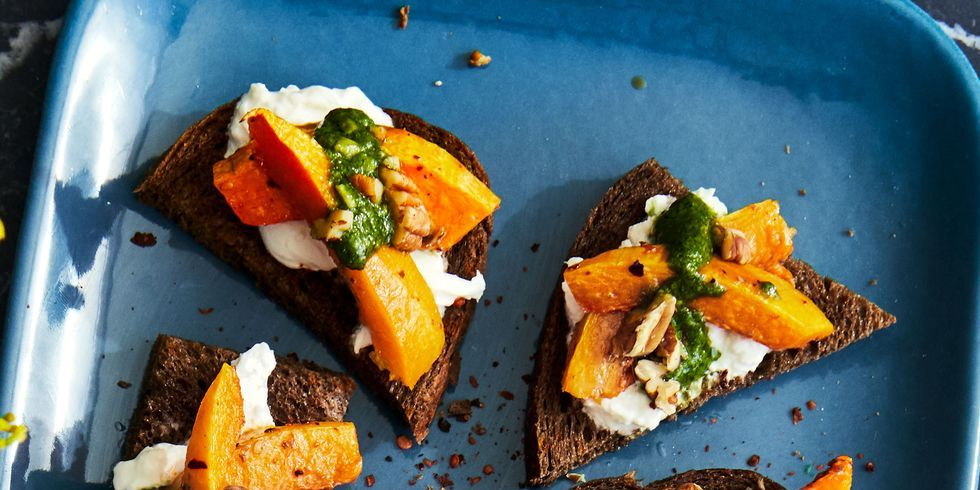 This is something extraordinary. Pumpkin, pesto, and pecans on bread give a little unique touch to your food plater. The orange cheese and green pesto already give some spooky little vibes.
Themed drinks for your Halloween party
With all the party heat, your guest would want something chill to drink. Now that we have our appetizers ready, let's get started with some themed drinks. Here are some Halloween party boo-zy cocktail ideas.
25. Witches Brew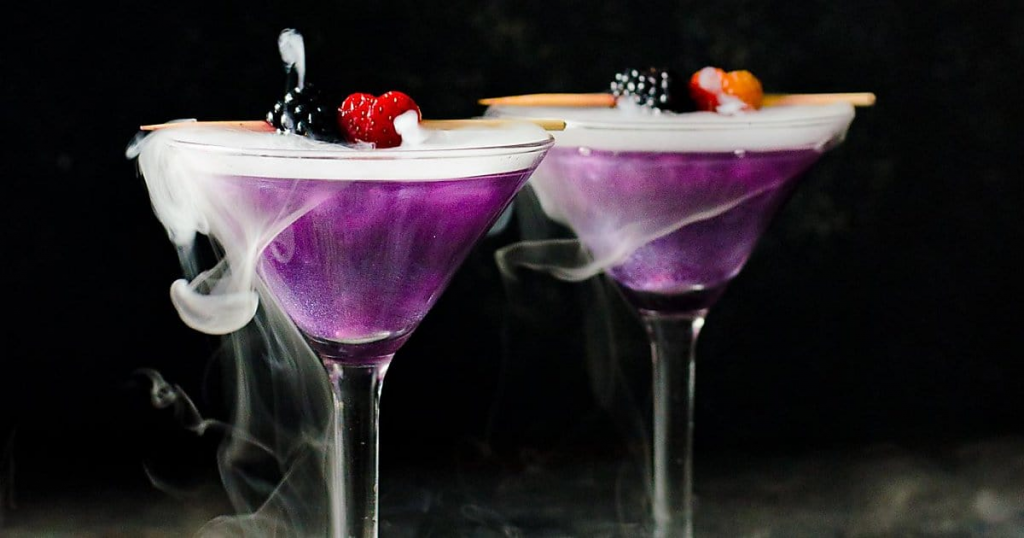 These will disappear quickly from your party. You just need to tie in some berries with alcohol or non-alcohol liquid, and it's ready to serve.
26. Shrunken Head Punch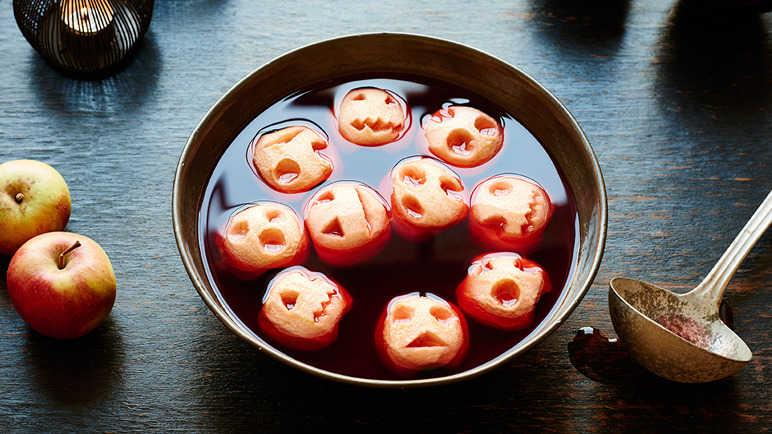 Party punch drinks are everyone's favorite. All you need to do is add in some flavors, spices, and red color fruits- pomegranate, lime juice, or berries. Make shrunken heads with apples.
27. Pumpkin Spice White Russian
This is the classy one. PSL garnish makes it extraordinary. Cinnamon adds the most to the drink. Don't forget to add cream to make it more delicious.
28. Web Cocktails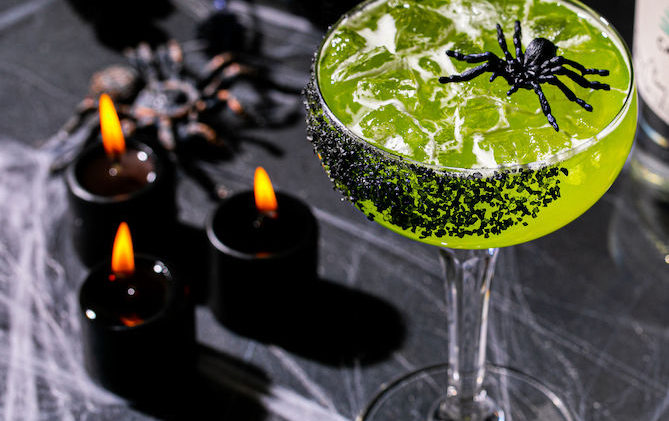 This creepy cocktail drink will get everyone talking about your drinks. It is a white forthy cream-based cocktail mixed with pumpkin spice.
29. Haunted Graveyard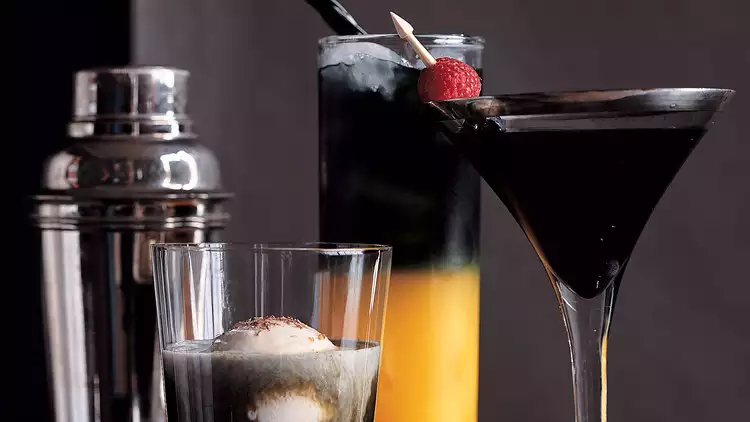 Greet your guests with black vodka mixed with creme de cacao to warm them up. Add creepy rosemary bud to make it more fun.
30. Pumpkin Lantern Cocktails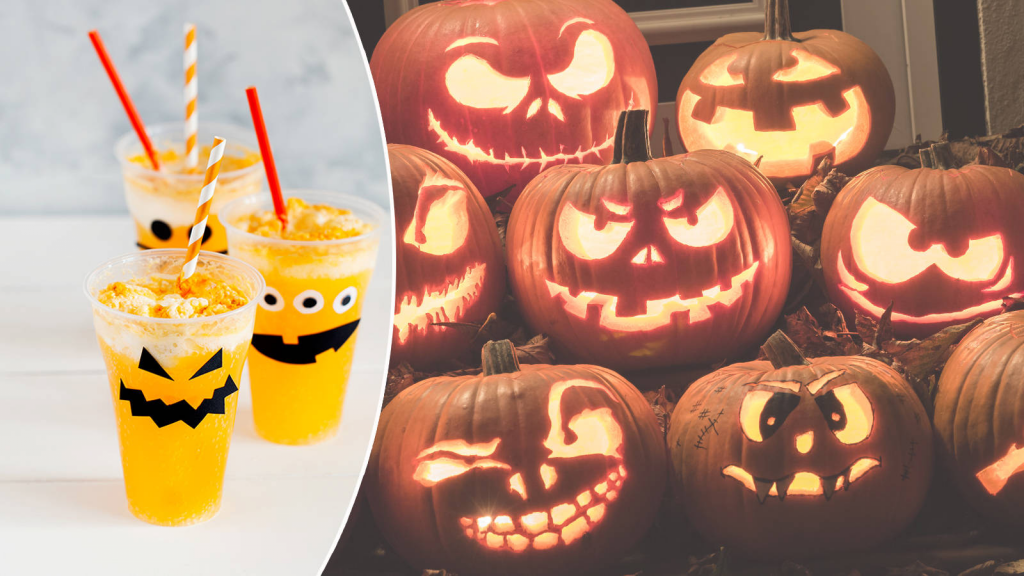 Pretty popular for teens' Halloween parties. Put your DIY skills to use and get creative with cocktails. If you make this drink for adults, you can add some liquor to spice it up.
31. Black Magic Margarita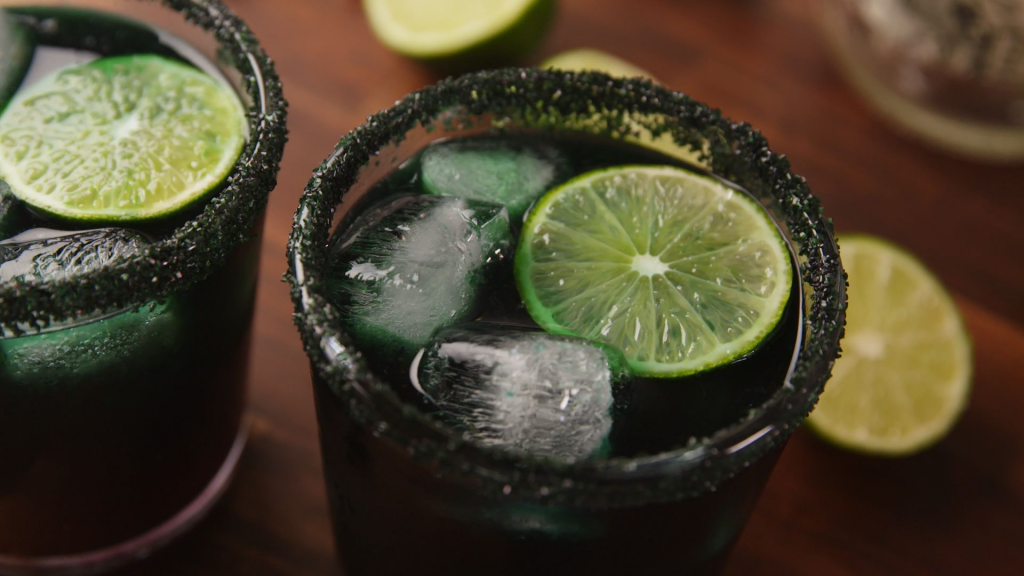 Bring the black magic twist to your drinks. Make a classy margarita, and add a few drops of black or purple food color. This is an attention-grabbing drink that looks amazing and tastes amazing.
Important Details to Keep in Check for Halloween Parties
Trick or treats. Check
Costume. Check
Music. Check
But is that enough?
Every event organizer would want to throw a spectacular party. Here are some basic things you should mark tick on.
Set time and date: Timing is everything. Firstly, set your time, date, and location. Halloween doesn't fall on the weekend every time- so plan your party accordingly.
Pro Tip: Ensure that you plan a Halloween party after working hours for adults. Make sure your timings don't clash with officing timings or teens' school hours.
Venue and Location: Well, it is highly crucial to consider your venue. Whether you are hosting an in-house party or you are hosting in an open space. Your location also depends on how many people you are expecting.
Theme: Halloween party is all about the theme. Work on some amazing Halloween ideas- Hollywood Horror, Freak Festival, or something like that.
Decor: A lot of effort goes into decorations and it might get heavy on your pockets. So, sort out your decor items, check which ones are the DIY decor and for which ones you need to go shopping.
Organize your menu: People are not there for just the party. They are there for FOOD! Without food and drinks, the party is not complete. We've also got you some delicious Halloween food ideas here.
Plan activities: Make your party memorable and fun with some games and activities. Remember, we are still coming out of the deadly covid-19 wave, so plan activities with all the precautions and safety.
Wrapping up all the party ideas for Halloween
Halloween events are more than just a party- it is fantasy, fun, and adventurous. The most important thing is the theme. Give your Halloween event dramatic touch with haunting themes.
With props and decor, you can do magic with the theme. If you are running on a budget, DIY is your total savior. DIY Halloween decor is the best, easy and quick.
Halloween food, drinks, activities, and theme- all of them when blended together, perfectly make your event complete. Get creative and stand out.
We hope you throw a memorable and amazing party.
Join The Community
300K event professionals use AllEvents to Publish events & Sell tickets
More on selling Halloween tickets,
1. Ticket Giveaway Ideas- That can sell event tickets faster
2. Exceptional Marketing Essentials for Selling Fall Festival Tickets
2. Best Event Ticketing Software To Support Your Event
Was this article helpful?
Abhishek is a content marketer who specializes in ticketing and event trends happening throughout the globe. He feels that event marketers should easily find the information they need.
Hence, he is responsible enough to gather information and deliver the relevant guidelines to planners throughout the event industry.